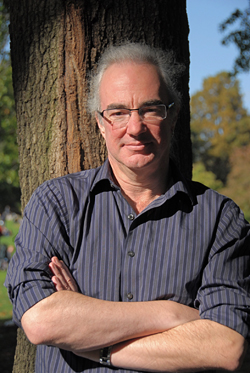 Alan on...

Alan Smale writes science fiction and fantasy, alternate and twisted history, with over thirty stories published in speculative fiction magazines, original anthologies, and as podcasts. His novella, "A Clash of Eagles", in Panverse Two, won the 2010 Sidewise Award for Alternate History (Short Form), and he is currently marketing an epic novel set in the same universe.
Six of his short fiction sales were to Realms of Fantasy magazine; one of them, "A Trade in Serpents" (available online here), was featured in Locus Magazine's Recommended Reading List for 2007. His fiction has also appeared in Abyss & Apex (twice), Paradox, Writers of the Future 13, Podcastle and Pseudopod, and non-fiction science pieces about terraforming and killer asteroids have appeared in Lightspeed. His new novella set (mostly) in near-future Asia, "The Mongolian Book of the Dead", appeared in the Oct/Nov 2012 issue of Asimov's Science Fiction Magazine, and has made several Best-of-Year lists (see below; reading copy available here).
Born and raised in England, Alan lives in Maryland and works as an astrophysicist and data archive manager at NASA's Goddard Space Flight Center. In what is humorously referred to as his 'spare time', Alan also sings bass and serves as Business Manager for high-energy vocal band The Chromatics, who have performed at various science fiction conventions (Balticon, Shore Leave, Farpoint) and were Music Guests of Honor at Philcon in 2008.
Coming in 2013:
"Deep Waters", short story, in Weird Tales.

"The Clockwork Caesar", short story, in The Beast Within 4: Gears and Growls, edited by Jennifer Brozek, to be published by Graveside Tales.
Recent Releases:
Podcasts
"Wearing the Dead", released April 2010 and available at Pseudopod, read awesomely by Kris Johnson. "Wearing the Dead" originally appeared in "Book of Dead Things" in Summer 2007

"Kristin, with Caprice" released April 2010 and available at PodCastle, read superbly by Norm Sherman. "Kristin, with Caprice" originally appeared in "Realms of Fantasy" in August 2003
Greatest Hits of the Aughts
"Delusion's Song", in Panverse One, an all-original novella anthology available at Amazon.com (in paperback or Kindle editions) or direct from Panverse Publishing

Honorable Mention in "The Year's Best Science Fiction 27" by Gardner Dozois

In Locus, Feb 2010, Dozois also says: "The best story here is probably Delusion's Song by Alan Smale, an atmospheric fantasy centering on a strange space-time disconinuity that opens up around Emily Bronte of Wuthering Heights fame, trapping her and her dysfunctional family and the entire village of Haworth, Yorkshire in an ever-growing expanse of moorland."

Paul di Filippo, in "Best Speculative Fiction of 2009", says: "Combine the lives of the famous Bronte sisters... with Jerome Bixby's creepy tale "It's a Good Life!", then add a dash of Philip Jose Farmer, and you might come up with something resembling Alan Smale's "Delusion's Song"... Smale works cleverly in a manner akin to that of Rhys Hughes, and succeeds in building an odd landscape that mirrors our world in useful and entertaining ways."

Bibliophile Stalker Awards: listed as one of the three best novellas of 2009 by influential reviewer Charles Tan

Tan also says: "Particularly memorable is "Delusion's Song" by Alan Smale. This is actually the longest piece in the book but in Smale's hands, the story doesn't feel dragging. The key to this is the scene breaks as Smale writes in short bursts. His characterization is also spot on, especially the way the female characters rise to prominence. In certain respects, it reminds me of the award-winning story "Pride and Prometheus", not just because of the genre mashing, but in terms of the quality of the writing. There's a lot going for "Delusion's Song", from its metafictional elements to the eerie atmosphere that it develops."

Tangent Online says:, "In many ways, "Delusion's Song" is an example of what writing is all about: the cannibalization of the works created by the great writers who came before us, and the merger of real people and fictional worlds. Readers of classic English literature will appreciate the historical and literary references that form the backbone of this powerful and thought-provoking tale. It is a heavy story, and it will weigh upon the mind long after its tale is told. "Delusion's Song" is one of the strongest stories in Panverse One."

"Fossil Fuels", in Realms of Fantasy, February 2009 issue - story now ONLINE!

The Internet Review of Science Fiction says: "Rosalind, an eternally reincarnated archetype, descends into a coal mine to once again search out and kill her eternal adversary... I am reminded a bit of Holdstock's Mythago Wood series, with its eternally recurring figures, except that Rosalind and Jack are quite a bit more human. But the strongest part of this piece is the setting of the mine - the darkness, the oppressive sense of weight overhead."

"Quartet, with Mermaids", online at Abyss and Apex Issue 25: 1st Quarter 2008

Honorable Mention in "The Year's Best Science Fiction 26" by Gardner Dozois

Honorable Mention in "Best Horror of the Year, Volume One" by Ellen Datlow

Locus says: "The first 2008 issue of Abyss and Apex is a good one: two particularly sharp-edged pieces work best... Alan Smale's "Quartet, with Mermaids" is an only too believable treatment, from multiple viewpoints, of the likely end results of finding a real group of plausible mermaids."

"A Trade in Serpents", in Realms of Fantasy, August 2007 issue - story now ONLINE!

Honorable Mention in "The Year's Best Science Fiction 25" by Gardner Dozois

Featured on Locus's Recommended Reading List for 2007

Locus says: "August's Realms of Fantasy is dominated by a quirky and historically impertinent counterfactual by Alan Smale... "A Trade in Serpents" draws on certain rhetorical ramblings that preceded the American Revolutionary War - Benjamin Franklin's famous sentiment that if Britain wanted to export convicts to the Colonies, it should import rattlesnakes in return - to work mischief with the past... soon, dreadfully big and purposeful rattlers are infesting the streets of London... Smale does a fine job of picking out [the inevitability of America's separation from the Empire] amidst the surface details of 18th-century life and thought, and his psychoanalysis of Franklin is intelligent and amusing."

Tangent Online says: "Stir it all together with great care and you have a well-crafted suspenseful adventure, definitely worth reading."

"Bound", in Horror Library Volume II, edited by R.J. Cavender and Vincent VanAllen, from Cutting Block Press

"Wearing the Dead", in the new edition of Twilight Tales' Book of Dead Things, edited by Tina Jens & Eric M. Cherry

Honorable Mention in "Year's Best Fantasy and Horror 21" by Link, Grant, and Datlow